Bristol Airport Taxi Services
How much will it cost me to get a taxi from Bristol Airport to Bristol City Centre?
The city of Bristol is roughly 8 miles away from the airport and the journey should be roughly 20 minutes long. Book in advance with one of our Bristol Airport taxi providers for the best value for money and quality service.
How much does a Bristol taxi cost between the airport and the city? *
| Vehicle | Single Trip | Return Trip |
| --- | --- | --- |
| Saloon Car (up to 4 passengers) | £25 - £30 | £55 |
| Estate Car (up to 4 passengers) | £40 | £100 |
| Executive Car (up to 4 passengers) | £40 | £75 |
| People Carrier (up to 6 passengers) | £40 | £75 |
| 8 Seater Minibus (up to 8 passengers) | £55 | £110 |
| Executive People Carrier (up to 6 passengers) | £55 | £80 |
| 16 Seater Minibus (12 or 14 passengers, depending on luggage) | £80-90 | £140 |
* Please note that these prices are only estimates. Fares can vary depending on routes, taxi firm rates and time of journey. Please contact a firm directly for a quotation.
As you can see, if you're splitting a large cab between your fellow passengers, Bristol Taxis are very cost-effective. Taking a cab also takes the stress out of waiting on trains or getting shuttle buses.
At the end of the day, your travel choices are about you. Our recommended Bristol taxi firms are at the top of this page and may offer you better rates or discounts if you call them up.
What route could a Bristol cab take me?
Bristol Airport Taxi Rank
There is one taxi rank at Bristol Airport which can be found be found just outside the arrivals/exit closest to the special assistance desk, opposite Caffe Ritazza. This taxi rank predominantly operated by Arrow Cars, who have their own booking office opposite the terminal building; simply ask for a quote and you will be allocated a vehicle asap.
Other companies can pick up and drop off passengers but they must be pre-booked. We recommend pre-booking your taxi with one of the reputable firms at the top of this page.
Bristol Council licenses both taxis and minicabs. Drivers of both categories of vehicle must pass a taxi driving test, a Bristol knowledge test, a medical and a CRB check so you should be safe whichever type of licensed vehicle you choose for your airport transfer. All hackney carriages have to be capable of transporting a person seated in a wheelchair comfortably. As always, minicabs cannot be flagged down but must be booked in advance through the company's office. Both taxis and minicabs must display the relevant badge showing that it is properly licensed.
Many taxi companies are happy to provide account facilities to regular users, subject to credit checks. More information can be obtained by phoning the individual companies.
The journey to or from the airport takes around 20 minutes according to traffic, and costs in the region of £25, increasing for early mornings and night transfers.
Places of interest near Bristol Airport
Where could your Bristol Airport taxi take you? Bristol is a popular airport for both business travellers and holidaymakers who may be staying either in the city or travelling on to the south-west of England or Wales.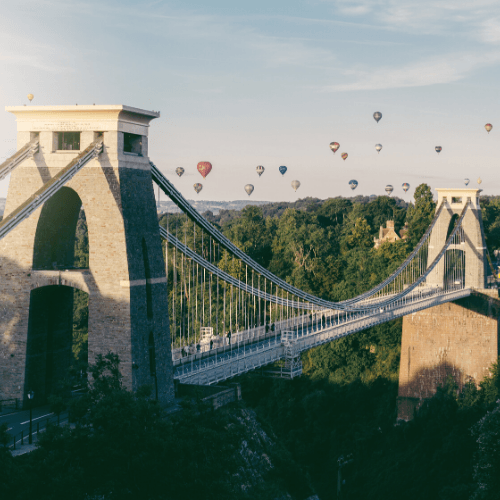 Bristol is a vibrant city with much to recommend it to the visitor. It is excellent for shopping, the arts, museums and for families the famous zoo makes a great day out. Bristol's latest shopping development can be found at Cabot Circus and is home to 120 shops. Out of town is The Mall at Cribbs Causeway which hosts Bristol's Fashion Week twice a year.
Distance from Bristol Airport: 8 miles/20 minutes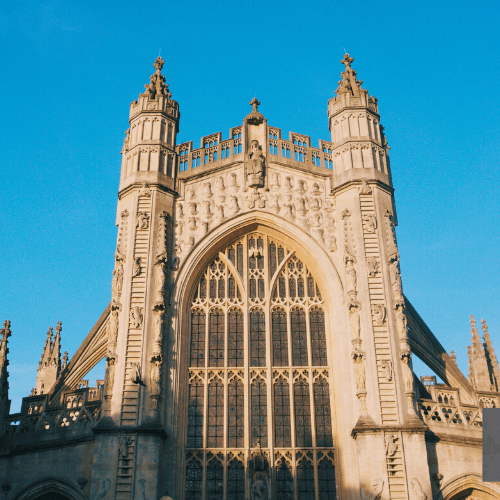 The historic city of Bath is world-famous for its Roman baths, hot springs, and Georgian crescents. Designated a World Heritage site by UNESCO, it also has some fascinating museums such as the Fashion Museum and the Jane Austen Centre which pays tribute to one of the city's most famous residents.
Distance from Bristol Airport: 20 miles/45 mins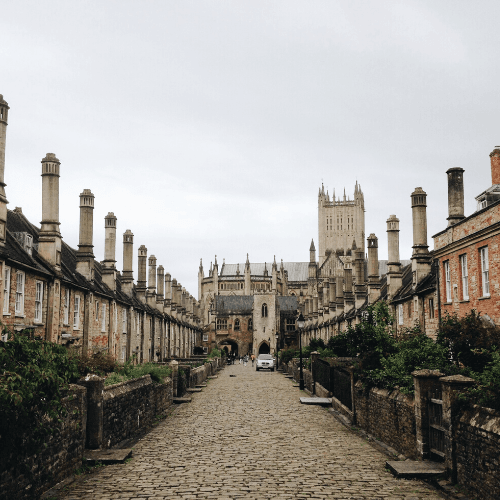 Wells may be England's smallest city but it is full of history and makes a very interesting place to stay for a few days. Its famous 12th-century cathedral, Bishop's Palace (home to the bishops of Wells and Bath for over 800 years), and the medieval Vicars' Close are just some of the historic attractions. Wells nowadays is a thriving market town and an excellent base for exploring the lovely Mendip hills.
Distance from Bristol Airport: 17 miles/35 mins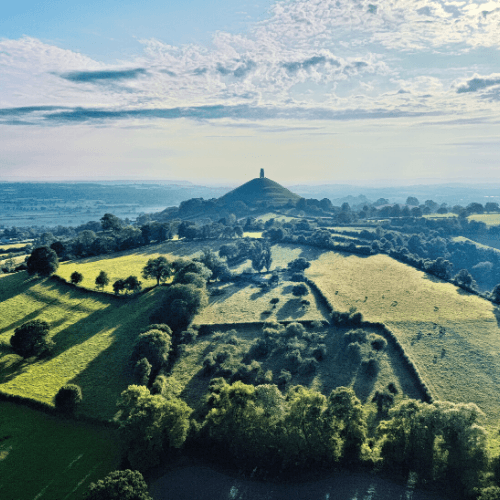 World-famous for its annual music festival, Glastonbury is also reputed to be the Camelot of King Arthur and the site of the first Christian church in the UK. It is something of a spiritual centre even today and has gained a reputation for being a centre of alternative beliefs. If you are seeking tranquillity the ruined Glastonbury Abbey, set in 37 acres of parkland, is an ideal place to visit.
Distance from Bristol Airport: 23 miles/47 mins